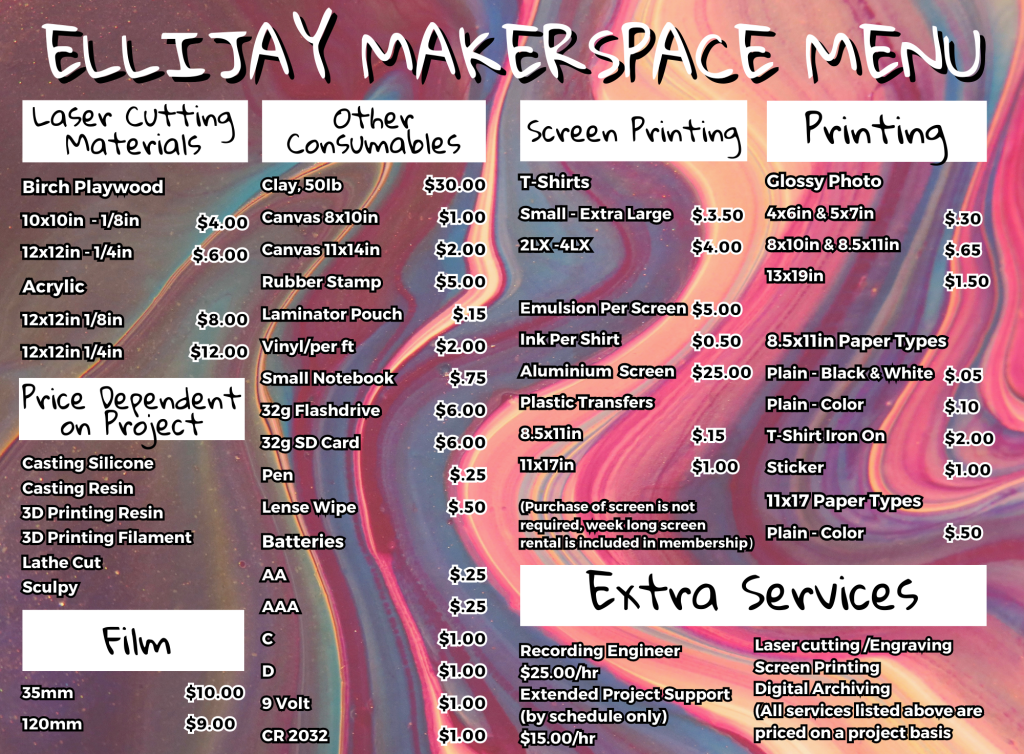 Resources offered at Ellijay Makerspace include but are not limited to:
3D Printing
Laser Cutting
Pottery
Audio Recording Studio

Audio Engineering Available

Video Production
Digital Archiving
Screen Printing
Computer Lab
Printing Lab
General Purpose Work Space

This room is used for all general-purpose projects.
Examples are stained glass, toy making, and mosaic tiling, the possibilities are endless!

Equipment Available for Member Checkout

One-week equipment checkout is available to established members.
New members will be asked to pay a $25 deposit in addition to new membership fees.

Ask about our secret menu projects! 😉
What is Extended Project Support?
When you join Ellijay Makerspace, our equipment and materials become available to you. Our staff will train you on how to safely use our equipment, but any creative/extended guidance on a project past general instruction will require Extended Project Support. Various members of our staff can offer their guidance for this support in lieu of classes, and on a more personalized level. Think of it like a tutoring session. Our staff all have a wide variety of talents and niches. Together we can offer you the support you need to accomplish your projects!
Examples of projects that you can utilize Extended Project Support are:
Screen Printing
3D Printing
Silicone Mold Making
Resin Casting
Digital Archiving
Hand Building Pottery
Whatever you may need help with!
Extended Project Support is $15/hr by schedule only.
You can schedule your time here or in the office on your next visit.
Materials and services on this list are subject to change due to demand, lack of demand, or general product availability. Special ordering for projects is also available.
For any questions email us at ellijaymakerspace @ gmail.com